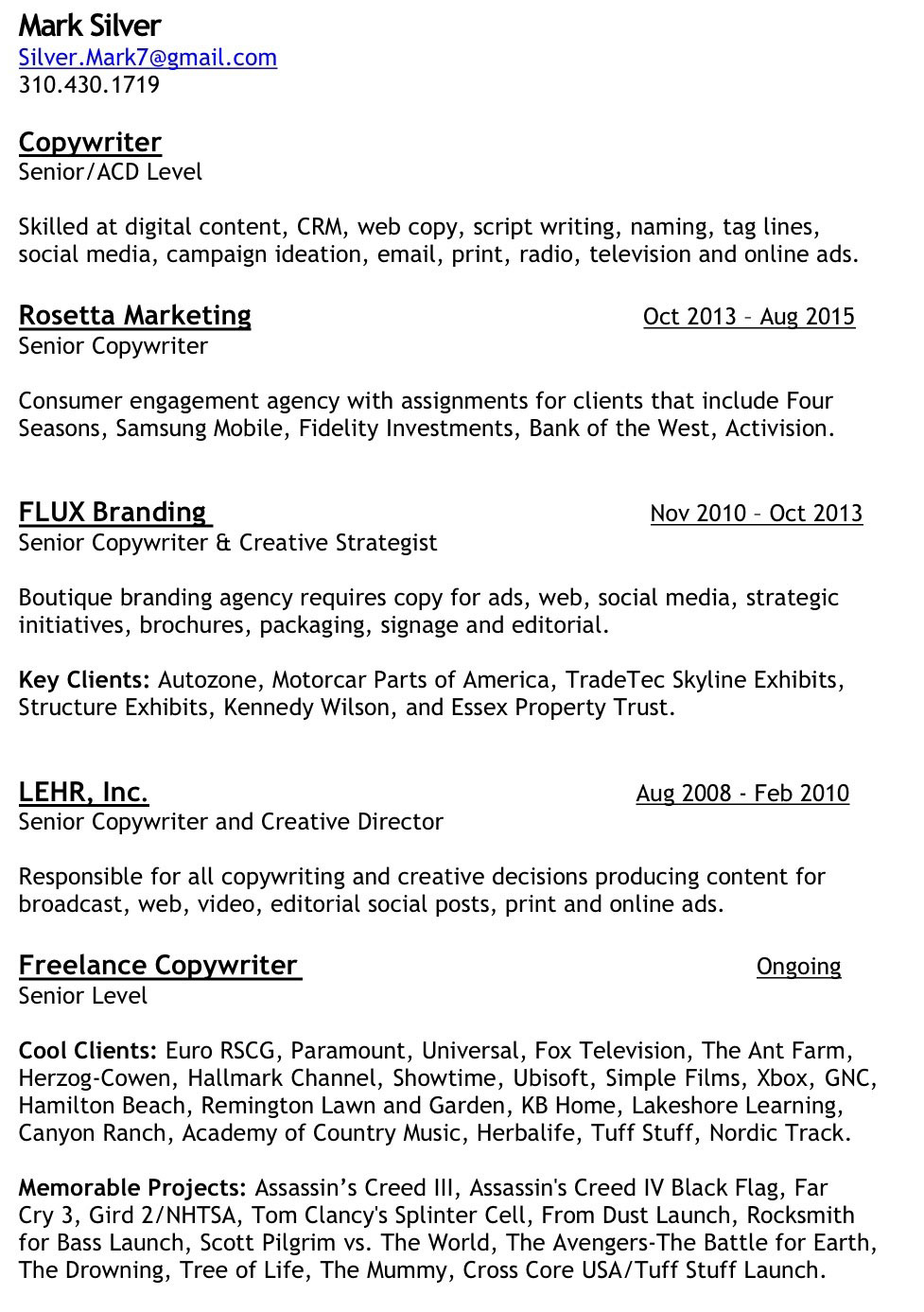 Mark Silver
Silver.Mark7@gmail.com
310.430.1719
Copywriter
Skilled at digital content, CRM, web copy, script writing, naming, tag lines, social media, campaign ideation email, print, radio, television and online ads.
Rosetta Marketing
Senior Copywriter
Oct 2013 – July 2015
 
Consumer engagement agency with assignments for clients that include Four Seasons, Samsung Mobile, Fidelity Investments, Bank of the West, Activision.
FLUX Branding
Senior Copywriter & Creative Strategist
Nov 2010 – Oct 2013
Boutique branding agency requires copy for ads, web, social media, strategic initiatives, brochures, packaging, signage and editorial.
Key Clients: Autozone, Motorcar Parts of America, TradeTec Skyline Exhibits, Structure Exhibits, Kennedy Wilson, and Essex Property Trust.
LEHR, Inc.
Senior Copywriter and Creative Director
Aug 2008 - Feb 2010
Responsible for all copywriting and creative decisions producing content for broadcast, web, video, editorial social posts, print and online ads.
Freelance Copywriter
Senior Level
Ongoing
Cool Clients: Euro RSCG, Paramount, Universal, Fox Television, The Ant Farm, Herzog-Cowen, Hallmark Channel, Showtime, Ubisoft, Simple Films, Xbox, GNC, Hamilton Beach, Remington Lawn and Garden, KB Home, Lakeshore Learning, Canyon Ranch, Academy of Country Music, Herbalife, Tuff Stuff, Nordic Track.
Memorable Projects: Assassin's Creed III, Assassin's Creed IV Black Flag, Far Cry 3, Gird 2/NHTSA, Tom Clancy's Splinter Cell, From Dust Launch, Rocksmith for Bass Launch, Scott Pilgrim vs. The World, The Avengers-The Battle for Earth, The Drowning, Tree of Life, The Mummy, Cross Core USA/Tuff Stuff Launch.